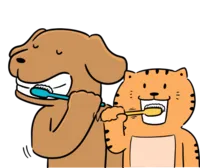 EVERY MONTH IS DENTAL MONTH
**$75 off the full price of a dental**
Like people, pets need regular dental cleanings to remove plaque and tartar buildup. If not removed, this buildup may lead to periodontal disease and more serious health problems. In fact, Oral disease is the most frequently diagnosed health problem for pets. According to the American Veterinary Dental Society, more than 80% of dogs and 70% of cats over the age of three show signs of dental disease!
Dental Cleaning at Hartwood Animals Hospital
During a wellness exam, your vet will recommend a dental cleaning if there is periodontal disease in your pet's mouth. To allow a thorough examination and cleaning of your pet's mouth, your pet must undergo anesthesia. One of our Licensed Veterinary Technicians will perform ultrasonic scaling and polishing of all of the teeth. Extractions and dental radiographs may also be performed at this time.
You're pet's dental care at Hartwood can include:
ultrasonic cleaning
extractions
restorative care
digital dental radiology
Remember: Pets can live longer, healthier lives if oral health care is managed and maintained throughout their lives. In fact, proper dental care may add as much as five years to your pet's life!